How to control motors with H-bridge?
Started by
hawkeye
,
Mar 25 2013 10:04 PM
Posted 25 March 2013 - 10:04 PM
How can the SN754410 be used to control DC motors? Is there an example circuit?
Thank you!
---
Posted 31 March 2013 - 06:24 PM
Sorry for the late reply!
It's pretty easy to to control DC motors with the SN754410. Here's the pinout and truth table for the SN754410: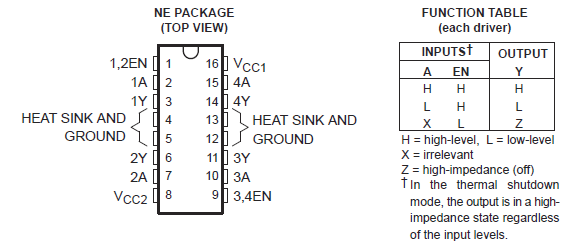 Here's a schematic for the SN754410: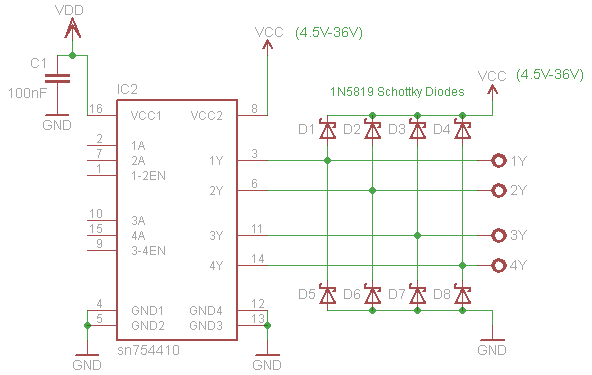 So the way it works is that you connect your motor supply voltage (which can be anywhere from 4.5V-36V) to VCC2, and your logic supply voltage (which again can be 4.5V-36V, but is usually 5V) to VCC1. You hook up one motor to 1Y&2Y and another (if you have more than one) to 3Y&4Y. To enable a motor, set the corresponding EN pin high, and to disable it, set the corresponding EN pin low.
The direction of the motors is controlled by setting the logic levels of the 1A&2A pins. This is where the truth table comes into play. You can see that if you set 1A and 1,2EN high, then 1Y will be high. In order for the DC motor to turn, you need one wire going to it to be high, and the other wire going to it to be low (GND). So if you set EN high, then 1A high and 2A low, then the motor will turn in one direction, while if you set EN high, then 1A low and 2A high, then the motor will turn in the other direction.
Pretty simple, right?
To control speed, you toggle the EN pin at a high frequency. This turns the motor on and off, but it happens so fast that you can't tell when the motors on and when it's off, you'll just see the speed change. What you really want to use for this is called Pulse Width Modulation (PWM); so the frequency of the toggling stays the same, but the time that the motor is turned on/off will depend on the "duty cycle" of the PWM signal.
Hope that helped!
---
---
0 user(s) are reading this topic
0 members, 0 guests, 0 anonymous users